To our many customers, thank you for your support. To our new customers, we welcome you and look forward to providing you with the price, quality and service you deserve.
Our Mission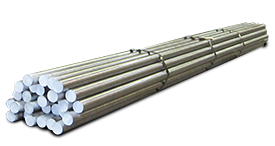 American Specialty Metals is a leading provider of tool steels products and services to the Specialty Steel Industry. "Our goal is to continuously improve." American Specialty Metals is dedicated to providing the highest quality products and business solutions for all our customers' steel needs. We offer our customers a commitment of quality and a promiseof superior performance and satisfaction. Our culture is customer driven. We believe our success depends on understanding and exceedingthe expectations of our customers. We believe at American Specialty Metals that quality and speed of delivery are the keys to survival and growth. The company's continuing success will be built upon its half-century long core values as well as the quality, responsiveness and safety of its employees.
It's Not Just Our Name, It's Our Reputation!

News
Full Processing Services, Tool & Die, Mold, Hot Works and Alloy Steel Brochure - Learn More

We are now offering 420SS ESR plate from ½" thick up to 12".

Now stocking 4140HT plate from 1/2" to 6" thick". Learn more.


American Specialty Metals
4817 E. 355TH Street
Willoughby, OH 44094
800-359-5959
P. 440-951-7600
F. 440-951-4877
info@americanspecialtymetals.com
American Specialty Metals Mexico
Serving Mexico and South America.

Contact ASM Mexico: Veronica@americanspecialtymetals.com
P. 55-4362-6002
Processing Services
• Band Sawing up to 30"
• Carbide Cold Sawing up to 4"
• Plate Sawing up to: 24" x 32" x 156"
• Turning up to 20" DIA X 50"
• Boring up to 18" ID
• Rotary Grinding up to 60" DIA
Products
• Tool and Die Steels
• High Speed Steels
• Mold Steels
• Hot Work Die Steels
• Carbon Steels
• Alloy Steels
• Aluminum
• BronzeCustom
• Custom Machined Material